October 2018 Newsletter; Recipes, Resort News and More
As the ski season gets closer and closer, Morzine is starting to feel very wintery again – we even had a day with white roof tops! This month's newsletter includes an update on our summer website, a look at the new range of luxury toiletries we have sourced for the chalet and two great recipes that Tom will be cooking at La Desmeuniere this winter and latest offers and availability.
This month we have launched our new website with our summer offering. Summers in Morzine are really starting to boom. Not only is the area packed with great facilities, but there is also a host of events and competitions. There are so many we have an entire web page dedicated to it
New Art from Janek Kocuj (Aneta's Dad)
We are now back in Morzine and starting to put our own stamp on La Desmeuniere. Apart from a lot of cobweb removal, the chalet is getting a fresh coat of paint. We are making a few little changes that we think will make it an even better venue for winter and summer holidays!
Our new toiletries are on the way
We have selected wonderful toiletries for our guests from Duck Island – the collection is fragranced with the time-honoured combination of Mandarin and Bergamot. Duck Island products are Paraben and Mineral Oil free, and are never tested on animals. All packaging, bottles and caps are recyclable so they are environmentally friendly - that's why after long research we have decided to choose them. We want to provide our guests with the best product, but also be as green as we can. For this reason, we have chosen to use the refillable bottles rather than the miniatures.
Duck Island's inspiration comes from an island of the same name, long since disappeared, which in 1734, at the height of its international fame and sophistication, was described as "one of the most enchanting summer retreats imaginable… a paradise in miniature."
Duck Island formed part of one of England's oldest Royal Parks, located in the heart of London. In 1664, the King of England, Charles II, received a gift of pelicans from the Russian Ambassador, and chose Duck Island as their home. The pelicans being one of the most exclusive expensive presents then imaginable. Hence the use a pelican as the motif.
The snow has arrived
New logos on the van get their first dusting of snow
White Pleney in the background, lots of rain at the chalet
This month sees the arrival of the first winter snow and some much welcome rain. Avoriaz and Morzine have some great snow making facilities thanks to its network of snow canons and reservoirs, but if there is no water in the reservoirs no snow making is possible. If anyone has seen a picture of Lac Montriond recently they will know what we mean! So even if it means no road biking there is a bitter sweet taste as the rain falls.
Recipes
No mushroom picking this month, but we are looking to bring back two popular dishes from previous seasons in Morzine.
Red Wine Braised Beef (bourguignon)
Yield 10
Preservation 3 days
Amount Ingredients
2kg diced beef shin

1 leek

4 onion

4 carrot

8 celery sticks

1heads garlic

2 sprigs thyme

2 sprigs rosemary

2 bay

1ltr red wine

100g tomato paste

25ml sherry vinegar

2lt veal or beef stock
Method
Either ask your butcher for 2.5cm dice or if you have a piece of shin try to cut evenly yourself. The meat benefits from a little fat left on it.

Peel and dice all the vegetables into large chucks (these will be picked out at the end). Put in a large tray/container with the diced beef.

Pour over the red wine and add the peeled garlic and herbs. Leave this in the fridge overnight to marinate.

Drain off the meat and vegetables reserving the wine,

Put the stock in a large pan and bring to the boil. Turn on your oven to 150c.

It's best to separate the meat and the vegetables for the browning stage. I put some kitchen paper or a clean towel in a tray and place the beef at one end and the vegetables at the other and try to dry them as best as possible.

Dust the beef in flour lightly. Put a large frying pan (or two) on a high heat, using a little vegetable oil, brown the beef off in small batches, adding more oil as required. Place the browned beef onto a clean large tray.

Brown the vegetables in the same pans and add the tomato paste once golden brown.

Let the paste dry out a little and then add the vinegar and let it evaporate.

Add the wine and reduce to a syrup, add to the hot stock pan, boil and skim.

Pour the mixture over the tray of browned beef, tinfoil and cook in the oven for 2-3 hours. The meat should be tender but not falling apart.

Remove the beef from the oven once cooked and leave to cool (this can be overnight).

Pick the beef out into a clean tray. Drain the remaining from the tray into a large pan with a colander inside. Squeezing all the juice from the vegetables.

Pass the liquid through a sieve into a medium pot and bring to the boil, skim and turn down to a simmer. Leave to reduce to sauce consistency skimming frequently.

Season the sauce with a little more vinegar, lemon juice or cream if needed. To serve pour the sauce over the beef, tin foil and place in an 180c oven for 20-30 minutes until piping hot.
Tom's notes,
It is a long process to cook this but really worth the time. Try breaking it into three days: day one - preparation/margination, day 2 - cooking/cooling, day 3 - finishing the sauce and the best part, eating. If you are a celiac you can leave out the flour and use a little corn flour and red wine mixture to thicken the sauce at the end. I like to serve it with creamy mash potatoes and savoy cabbage. You can go down the traditional root and add baby onions, button mushrooms and lardons but there is already a lot of flavour.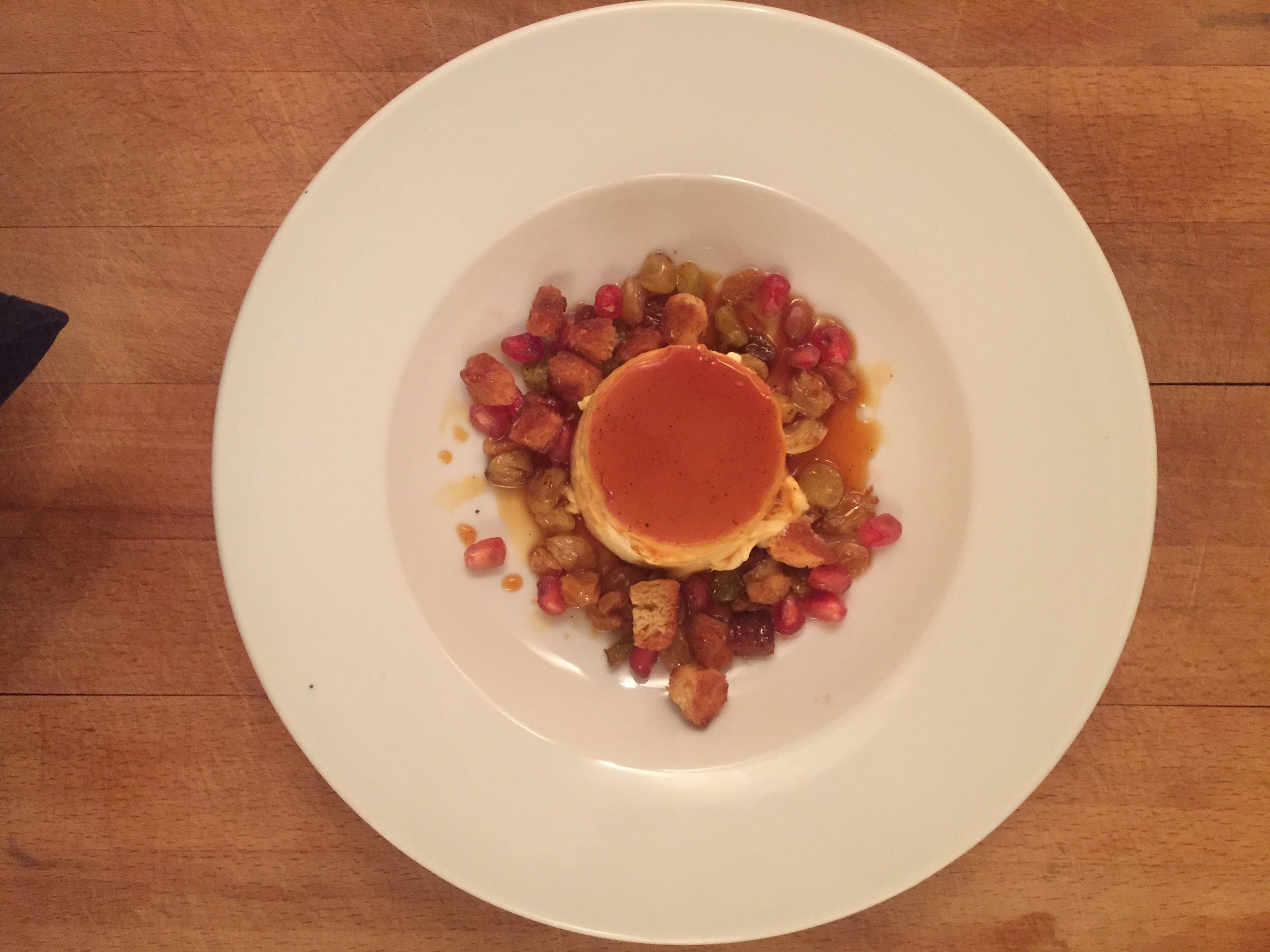 Yield 10
Preservation 2days
Amount Ingredients
200g caster sugar

12 yolks

8 eggs

2pints double cream

2pints milk

1 vanilla

7dsp clear honey
Method
Prepare an indirect caramel, once it is dark but not bitter stop the caramel with a splash of water and pour the hot caramel into the dariole molds and allow to cool.
Bring the milk, cream, vanilla and honey to the boil

Mix the sugar and eggs pour the boiling liquids over the egg mix

Pass and skim fill their moulds and cook at 100c in a tin foiled Bain-Marie for an hour or so.

Once a knife can be inserted and only caramel rises to the top and no liquid custard the crème caramels are ready.

Allow to cool for 20 minutes then transfer to a fridge to cool completely
Tom's notes
For the Bain-Marie uses a roasting tray lined with a clean kitchen cloth and fill it with boiling water from the kettle. The crème caramels will be far better if cooked a day in advance and rested overnight, to allow all the caramel to break down. Oh, in case anyone is confused a dsp is a dessert spoon!
Offers and Availability
Offers and Availability
Most of the season is now booked up, we have availability for the first UK half term week 10th-17th February.
The short break at the end of March is now full, but we have a few rooms left for the 5th – 9th January 2019 breaks at €295 per person. Easyjet flights from Luton are less than £75 return at the moment.
There are two triple rooms left for New Year - get in touch with us for prices.
We have four rooms available for the week from the 3rd February at €900, contact us directly and receive 15% off the advertised price!
To see all our availability, follow this link Prices and Availability